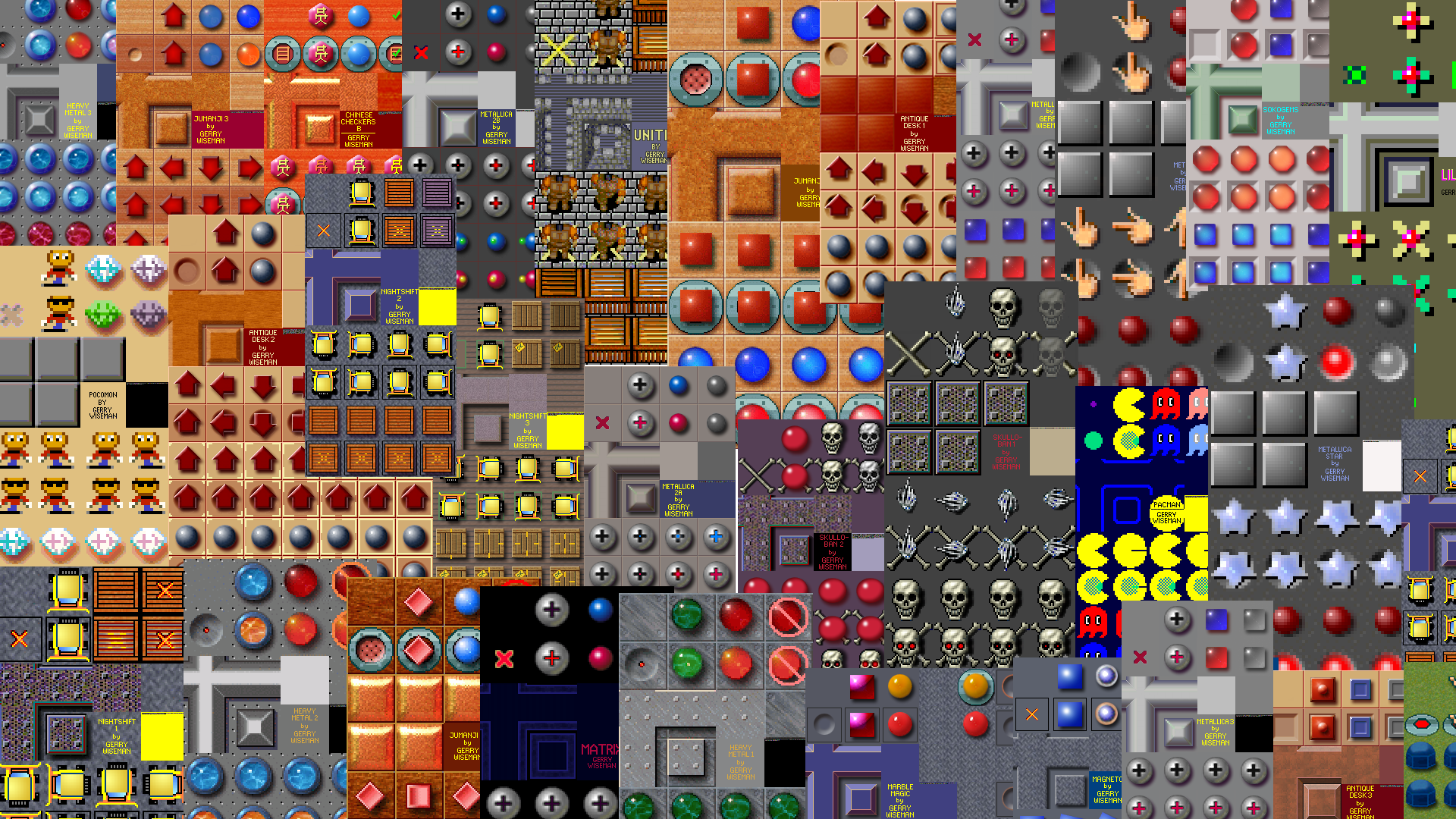 2017-08-26
Remember playing Sokoban with a beautiful skin?
A big chance is the skin was made by Gerry Wiseman.
Formerly working as a graphic artist, Gerry now is retired and lives on Vancouver Island, British Columbia, Canada. Wonder what he is up to now?
Some years around 2000 Gerry took a big interest in Sokoban and made many of the skins you will remember.
You will find Gerrys skins in many different versions on the net. And with different numbering for the same skins. In different sizes. Many badly scaled and badly implemented.
Here you will only find the skins in the best available quality. And you will not be confused by the numbering since I found all the always missing "Skin One" in the series and numbered them properly to the best of my knowledge.
The skins are presented below. All downloadable but not necessarily for your favorite Sokoban Players.
Antique Desk

Probably the best known series from Gerry.
You will find Antique Desk in three main versions and often in slightly differing variants for most of the main Windows Sokoban Players: YASC, YSokoban, Windows 3, Sokoban++, JSoko.
Furthermore Antique Desk 3 is used for the Android Sokoban players from Björn Källmark and Joris Witt.
You might find a skin named Old Desk somewhere. Don't bother. It is Antique Desk 3 in scaled versions with badly distorted graphics.
Metallica

This skin has 3 main versions. One with 2 variants. All shown above.
Metallica 1 was only made for Sokoban++. (So far). The use of individually drawn graphics for all 16 possible walls make it impossible to make an exact version as Common Skin.
Anyway I tried to make Metallica 1 as a Common Skin. And in YSokobans old format with 4×4 walls with a cell for each possible wall.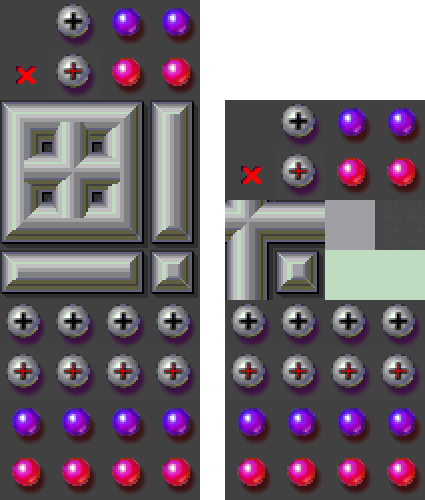 The result was perfect with the 4×4 format and not perfect with the Common Skin format: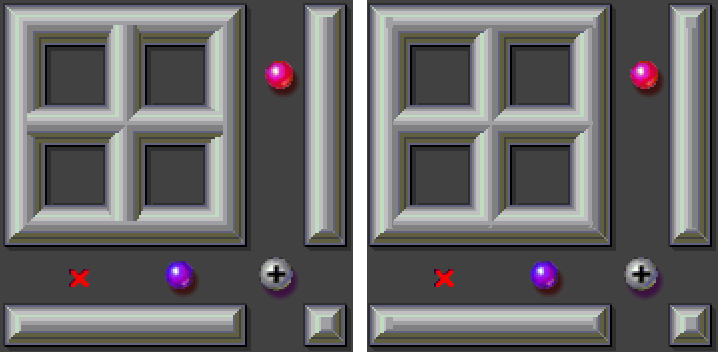 Click the image for details. Notice the differences with all the corners, ends of walls and single wall.
YASC supports the Sokoban++ skin directly. Both YASC and YSokoban support the 4×4 format. You will find Metallica 1 in 4×4 format in the download section.
Metallica 1 is made with low resolution 25×25 cells. The other skins in the Metallica series are 50×50 so you will probably prefer playing with one of these anyway.
Heavy Metal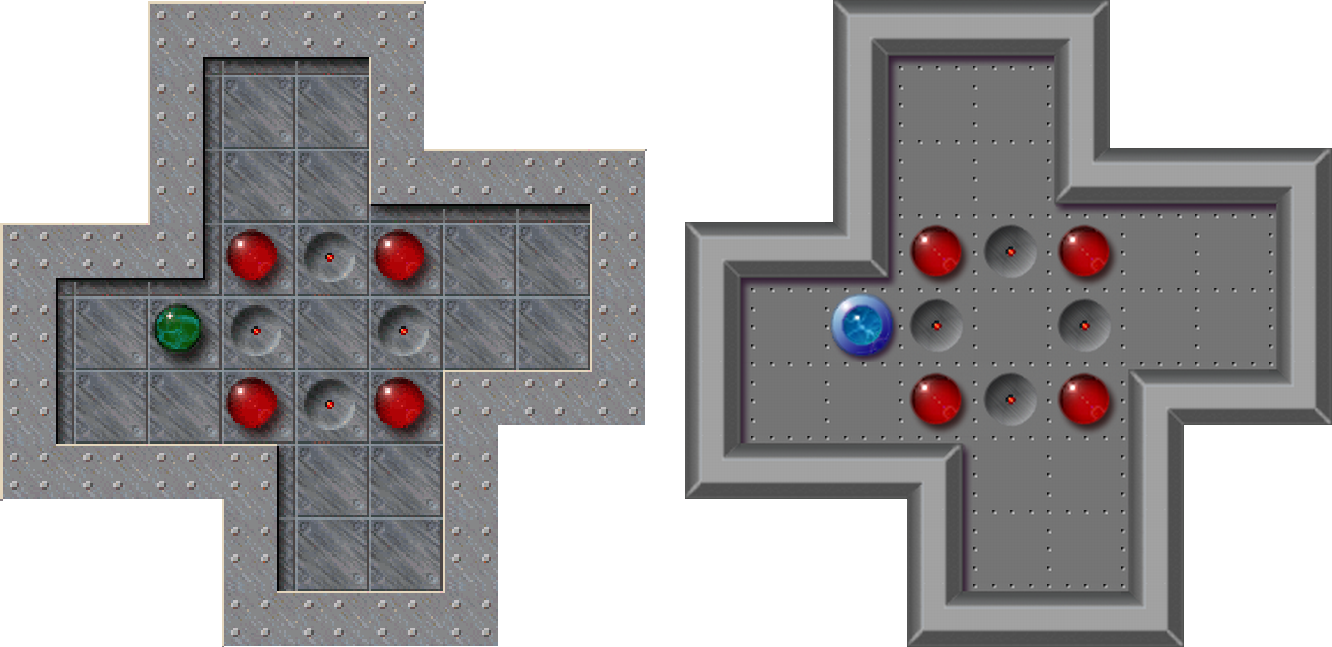 I think Gerry liked the metal theme. Heavy Metal is another series with two distinctly different versions.
Night Shift

Night Shift comes in 3 versions. Difficult to decide between the newest slick version or the older more crude versions.
Sokoban++ has Night Shift 3 in a 3D version:

Night Shift is far from forgotten. Neither in the past nor in the present:

Bulldozer from Expert Software 1995. Maybe Gerry found inspiration for Night Shift here.
And the guys making Daily Sokoban 2015 certainly found inspiration for their skin by Gerry.
Alchemyst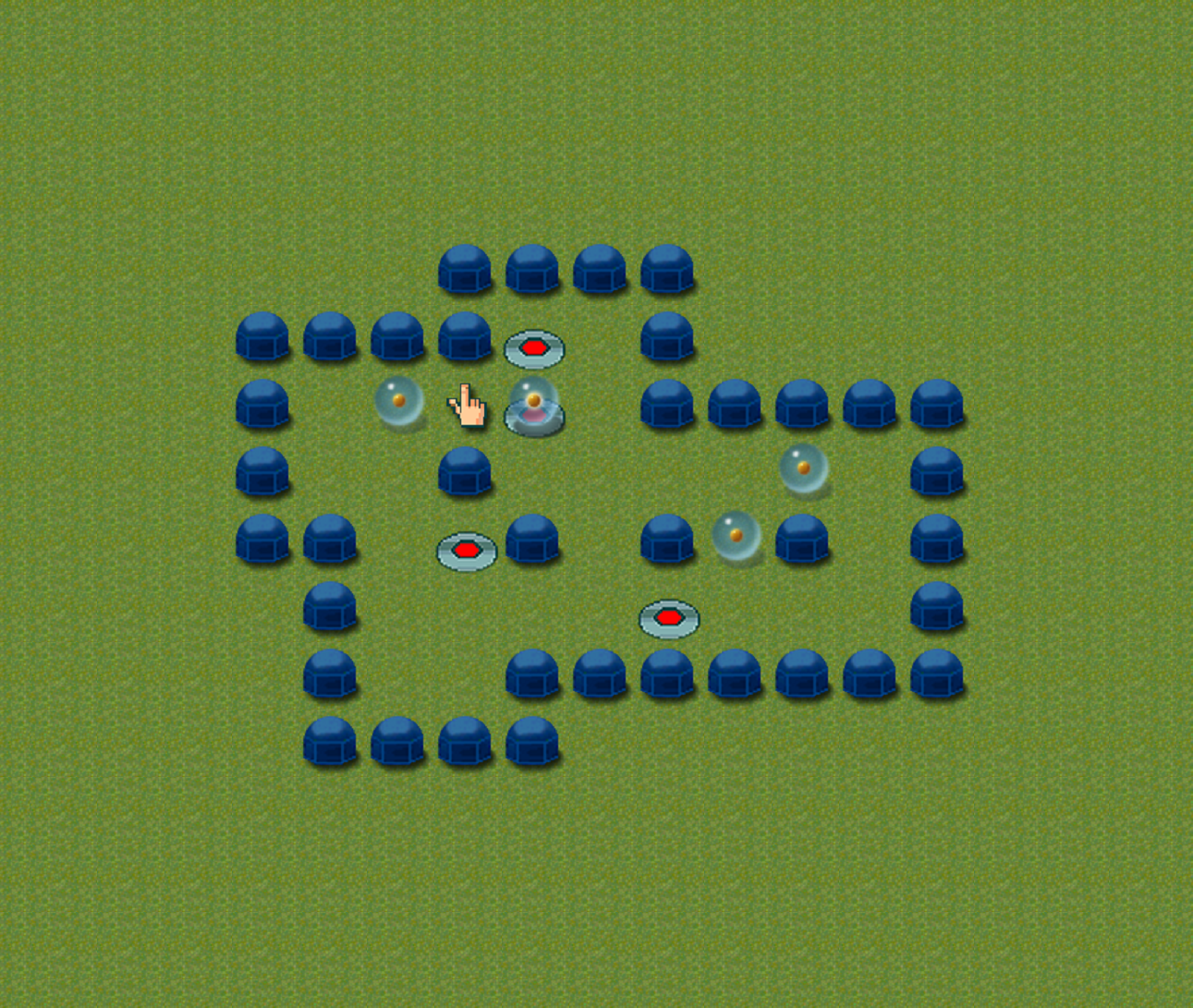 Alchemyst is a strange skin differing from most of Gerrys other work. You should play it for the animations but not for heavy duty Sokoban solving.
Gems and marbles
One thing you notice about Gerrys skins are the beautifully designed gems and marbles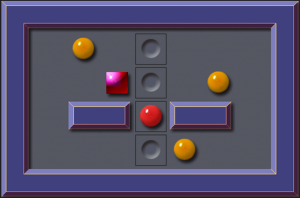 Marble Magic is my favorite Gerry Wiseman skin. Try it.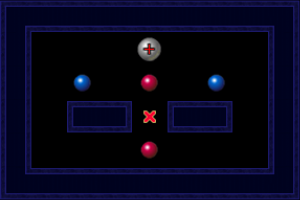 Digging into the Sokoban++ skin collection I found Matrix. Notice the Sokoban and boxes are the same as used in the Metallica series. Many graphics are reused in different skins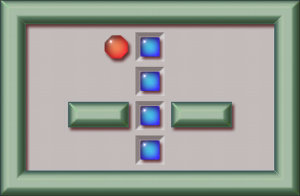 Sokogems. The stones are seen other places but the floor and walls are unique.
Jumanji

Often used themes by Gerry were metal or wood. Her it is wood. I think the first versions catch the rough jungle surroundings in Jumanji best.
Magneto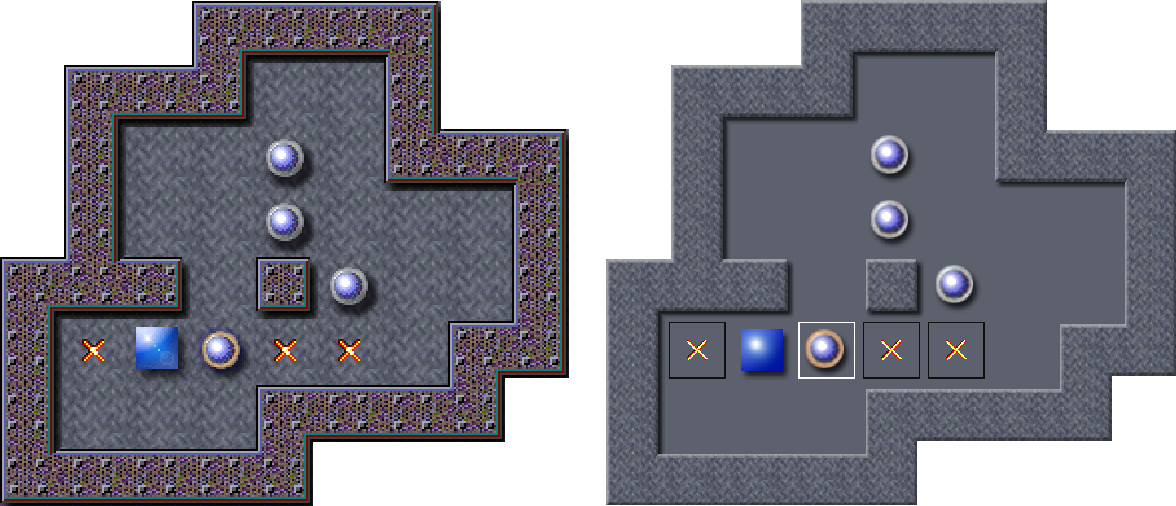 Straight back to the metal theme with Magneto
Graphics from other games 
Pacman was transferred very nicely.

The 1989 Amiga Sokoban player Pocoman from Sleepless Software. If you look closer you will notice the walls didn't transfer well from the original 16×12 rectangular cells to 30×30 quadratic cells.

For Unitix I think Gerry borrowed graphics from the Blizzard Entertainment's Warcraft real time strategy games. And redesigned the crates from Night Shift.

Gerry made the skin Sokomind for Gerald Hollers homepage. The skin was never used with Geralds Sokoban player Sokoban 97/Sokomind. For this player the skin on the right in several different colors were used.
Small skins

Gerry made a few really low resolution skin.
On the left Lilliput with 12×12 cells. Crisp and clear despite the low resolution.
The two next skins Metallica Star and Metal have 17×17 cells. Still nice but you wouldn't want to use them anymore since you find several beautiful metal skins with higher resolution.
Skulloban
And finally some genuine Death Metal Sokoban Skins:

Thanks for the skins, Gerry.
Levels by Morganine, Thinking Rabbit, Krisse727, Shaggath, Sven Egevad, Erim Sever, Roger Delaporte and DrFogh
I wrote Gerry before publishing this article. He provided me with a little information, had no objections to my text (Thanks) and wanted to acknowledge Brian Damgaard for his work with the skins. Try the skins specially designed for YASC to understand why.