2017-06-29
I have reorganized my levels. Interested? Have a look at the level page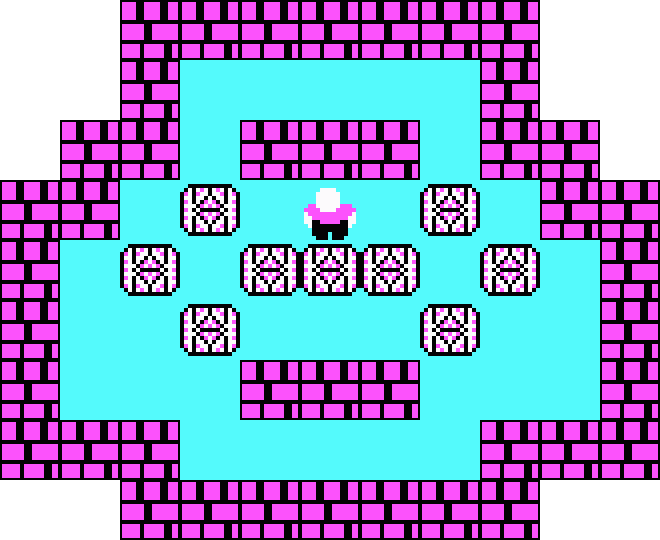 The collection Original01 is new (Roughly the same as the now discontinued Accumulated).
People competing for the lowest score will be pleased to know Original01 can be found at LetsLogic.com.
My favorite (011 Back To Start 2) in the collection is shown above. Made for Gil Dogans Sokoban Levels Contest getting a mediocre score.
Skin: Soko-Ban for DOS
---
2017-06-28
If you visit SokobanOnline once in a while you might have come across this level 1½ year ago.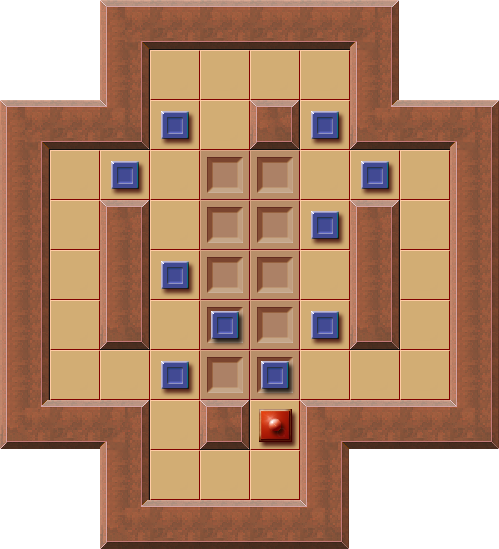 Title: 054 Tough 1
Comment: A Maelstroem-inspired puzzle.
Previously published: SokobanOnline.com 2015-12-03
Download level here: icon-file-o
Skin: Antique Desk 3 by Gerry Wiseman
---
2017-06-18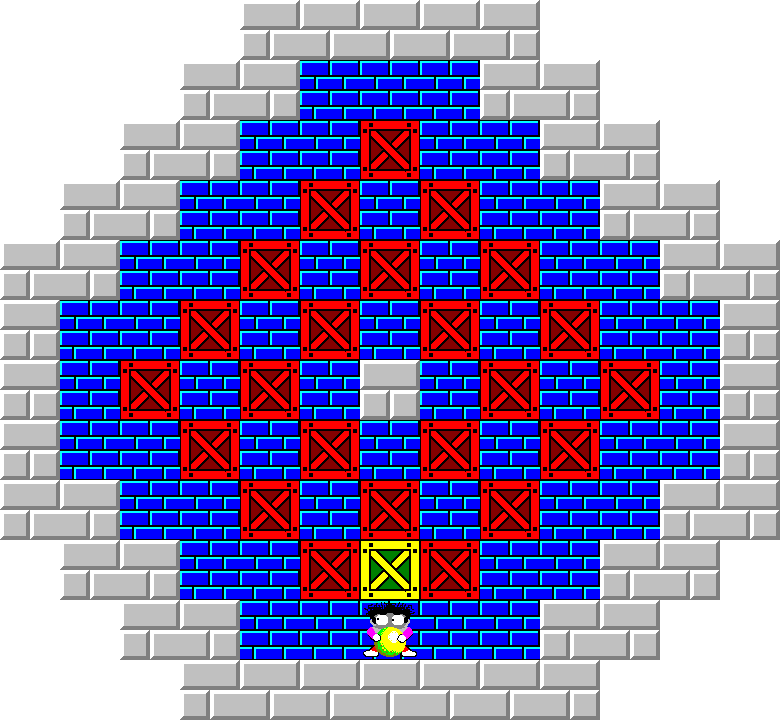 Title: Boring 5×5 Without Centerbox
Comment: Got bored. Made a 5×5 diamond level. Took 5 minutes. Sokolution solved it. YASS didn't. Discovered it isn't necessary to move the centerbox so I stoned it. Actually you can stone one more box if you want.
Date: 2017-06-18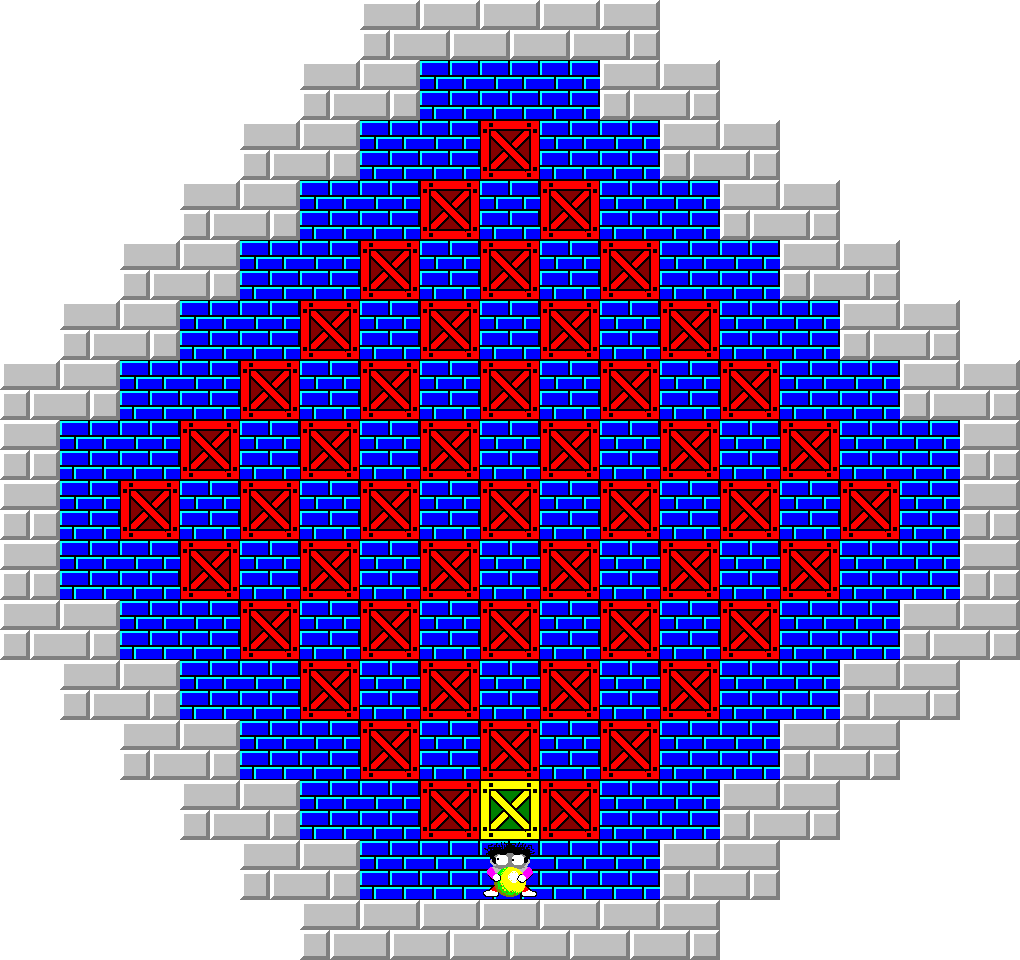 Title: Boring 7×7
Comment: Still bored. Made a 7×7 diamond level. Took 5 minutes. No solver solved it. By studying the 5×5 solution, and a lot of trial and error (mostly error) I finally succeeded solving the 7×7 level 12 hours later.
I still dont know if the puzzle can be solved with a fixed centerbox. Probably yes. Anyone up to the challenge?
Date: 2017-06-18
Skin: Boxworld
Levelfile: icon-file-o
---
Title: Squares icon-file-o
Date: 2017-05-22
Skin: Supaplex
---
2017-05-08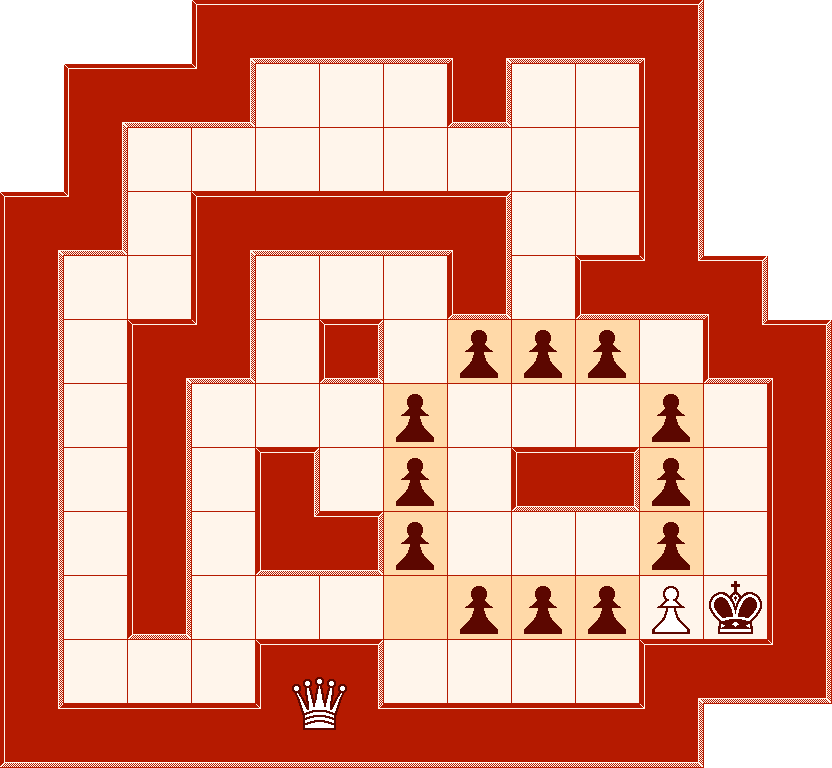 Title: Taxes icon-file-o
Date: 2017-04-30
Skin: Chess. icon-file-o And now it really is the newest version 🙂
---
2017-04-27
Another workover…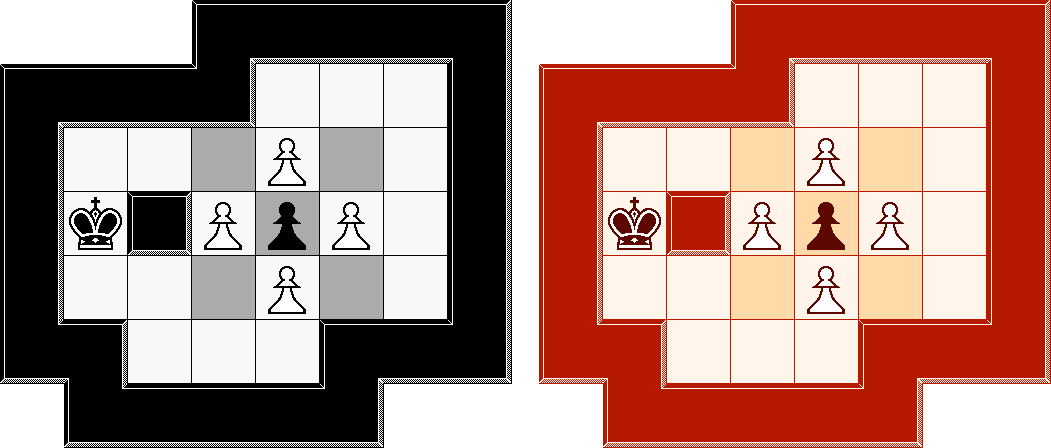 The pieces are now perfectly symmetrical.
In the proces I removed all aliasing making the pieces a little more angular.
Thanks to Brian Damgaard the white got a little tone making the skin more pleasing to the eye.
Finally I made the maroon pieces somewhat darker.
You will find them in the download above.
And the level here
---
2017-04-18

My skin Chess had some obvious lack of quality.
To my best ability this is corrected now (For the second time) so please download the new version.
By the way you get two versions. One more sinister but more according to the colors of chess.
No download. Download new version above.
---
2017-04-14
Happy Easter!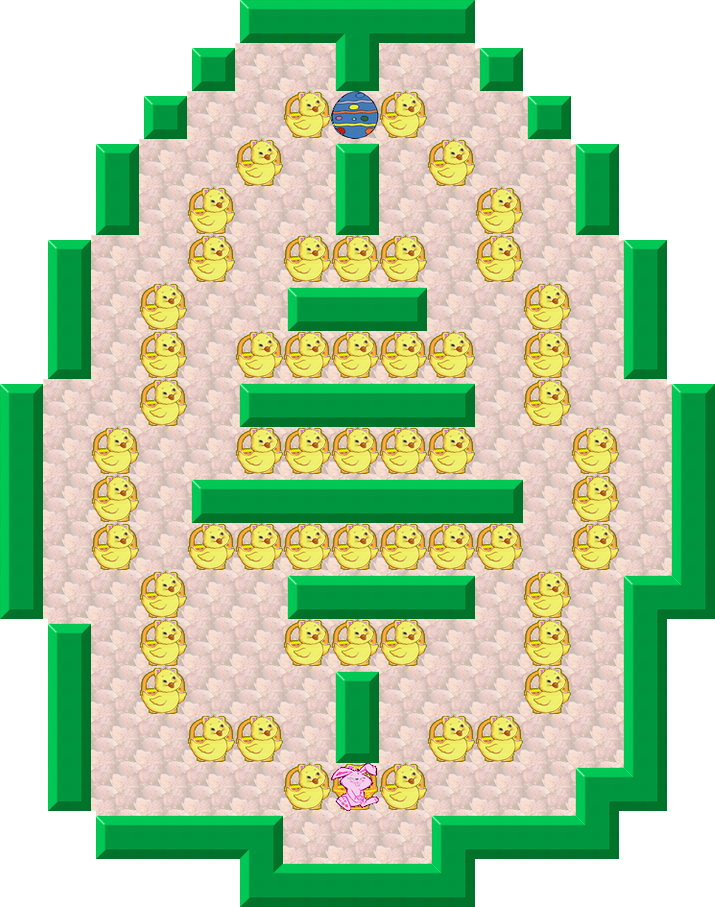 Fresh from the hen for you to solve.
Skin by Brian Damgaard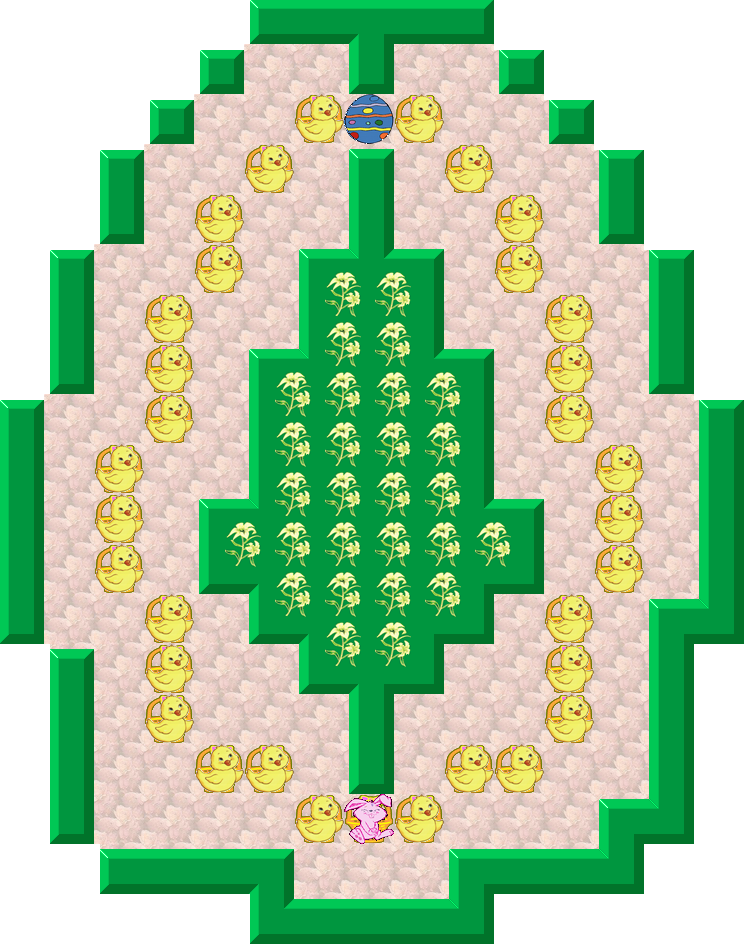 Same level again? The editor didn't clean up his code?
Not at all.
But Archanfel solved the level with about 100 moves less than my best. He provided me with his solution and I discovered a vast amount of superfluous floor at the left side of the level.
So above you see the revised version with a much more pleasing symmetrical look.
You will find both versions in the level file.
---
2017-04-04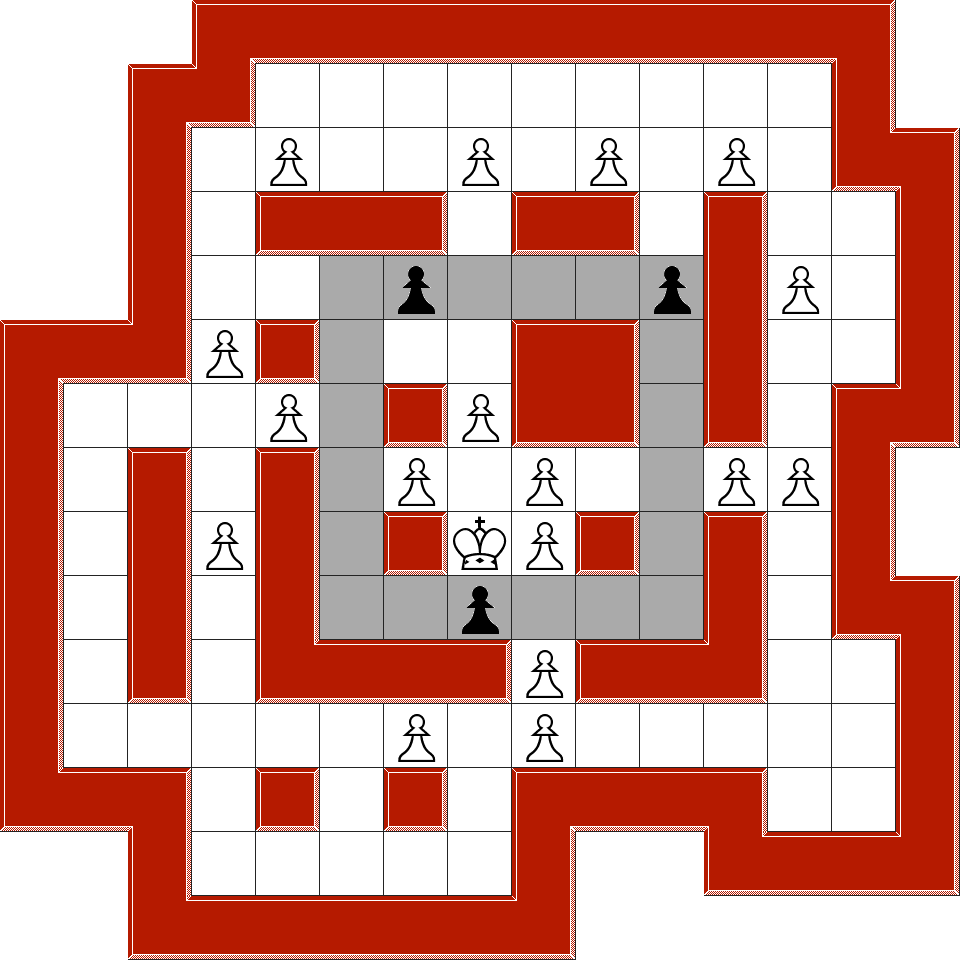 Title: Black Friday
Author: DrFogh
Comment: Black Friday was a stock market catastrophe that took place on Sept. 24, 1869. On that day, the stock market crashed and the price of gold plummeted after a period of rampant speculation.
Date: 2017-01-20
Skin: Chess by DrFogh. The Chess Font are freeware by Erik Bentzen
Download Black Friday
Chess: No download. Download new version above.
(Oops! I forgot the solution. Could somebody mail it to me?)
---
2017-04-04
Once in a while you will find an article about Sokoban…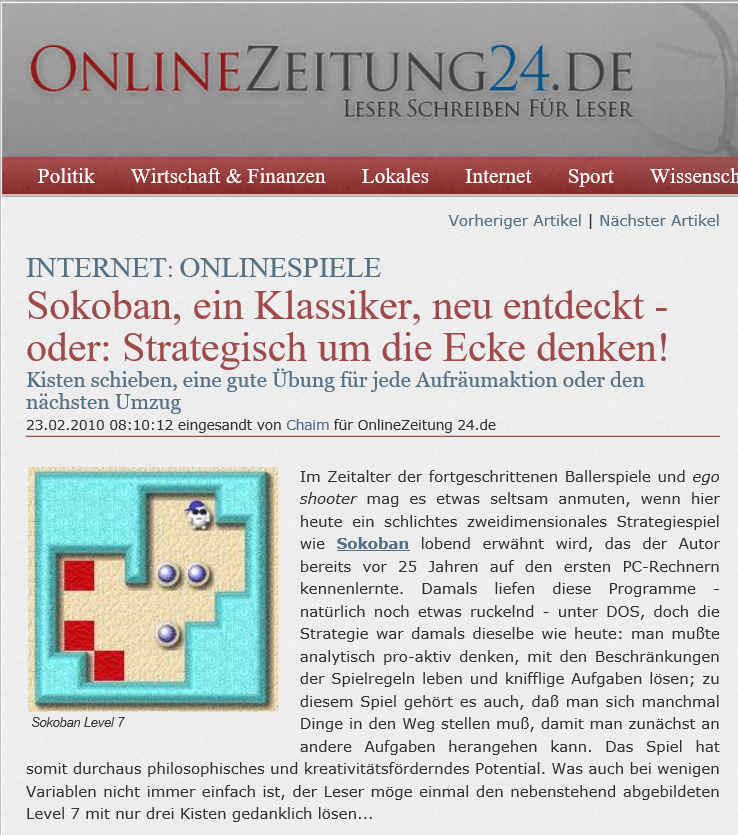 ---
---
Title: JCD
Author: DrFogh
Comment: John C Davis made a level with the word "Sokoban" suggesting the funniest way to solve the level letter by letter from the beginning even though you could solve the letters in practically any order. This level started as an attempt to make a level impossible to solve unless you solve the letters one by on from the beginning. Obviously I didn't succeed this time.
Skin: Soccer
Date: 2017-01-29
---
2017-03-11
Haikemono alias Jordi Doménech made a new collection "First Steps" around new year. The difficulty in the collection increases gradually from "easy" to "certainly not for beginners".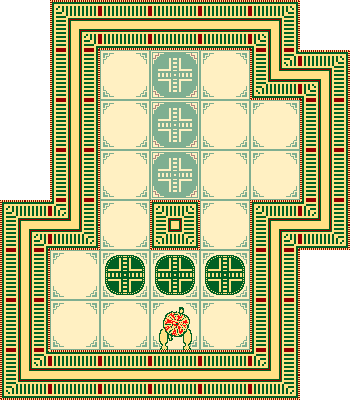 Title: Level 2
Author: Haikemono
Date: 2016-12-17
Skin: Chinese by Dan Adrian Baluta
Jordi changed his mind about the collection since from the 8th of March the collection disappeared from LetsLogic but instead you will find the original First Steps renamed "Magic Sokoban 7"
However First Steps didn't disappear. If you go to Jordis Blog you will find First Steps with a total of 210 puzzles arranged in three collections, "Beginner", "Advanced" and "Expert".
All the puzzles are by Jordi and all the puzzles have been published before in other collections.
So play the collections if you enjoy well ordered collections with increasing difficulty through the collection. But don't play them if you want to play new levels.
---
2017-03-05
Vipul Patel hasn't been active at the Sokoban scene for a long time. Latest all 6 collections by Vipul were published at sourcecode.se 2005-10-02. Suggesting the collections alle were made before that date.
Now you can get the new collection "Namo" from sourcecode.se. The text-file can be played in any popular Sokoban player.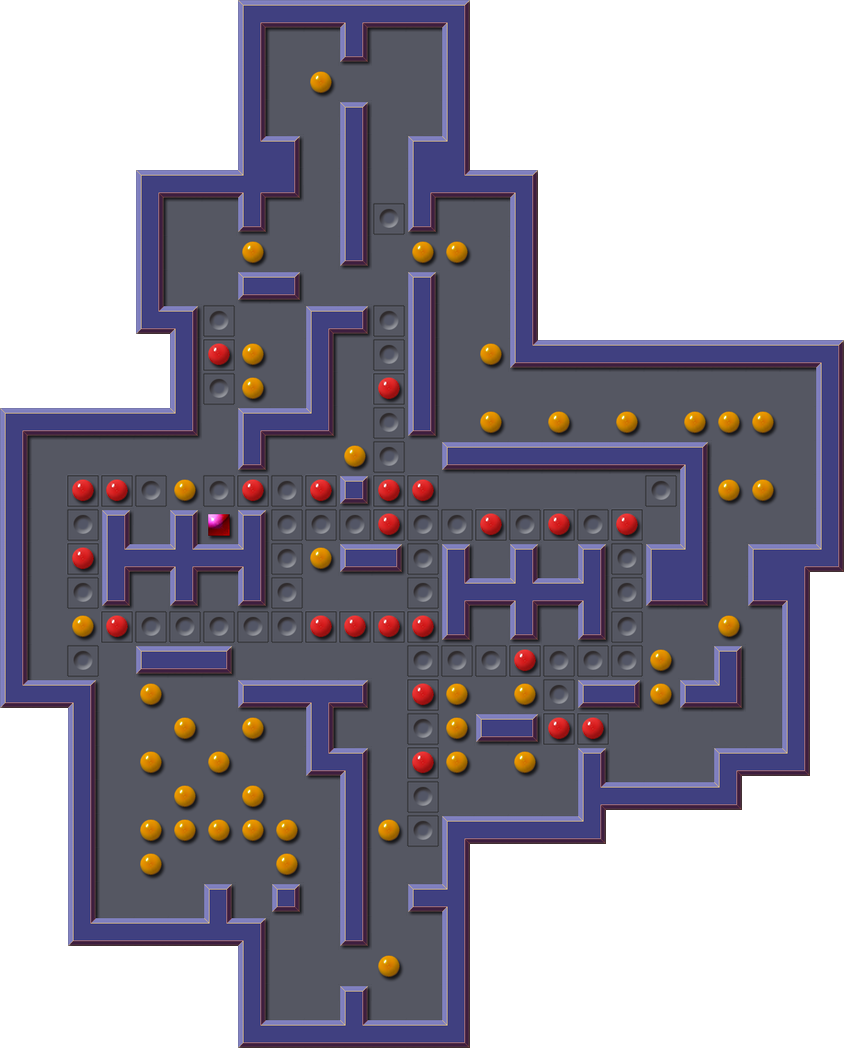 Title: Vilu f
Author: Vipul Patel
Date: 2017-02-27
Skin: Marble Magic by Gerry Wiseman
---
2017-03-05
Joris Witt published a smalle collection "JW2005" at LetsLogic
Joris never published any levels before and is more well known as the author of the Sokoban player Sokoban++ and one of the best Android Sokoban players.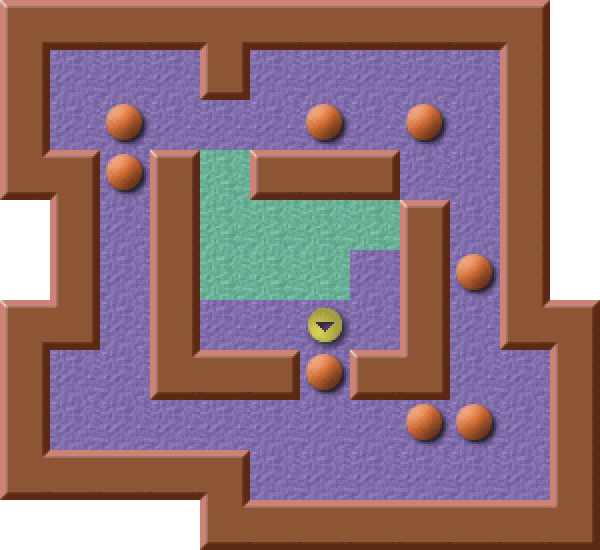 Title: JW2005.2
Author: Joris Witt
Publishing date: 2017-02-11. (The title of the collection suggests the levels were made several years ago 😉
Skin: Circle by Ariel Rodrigues
---
2017-02-23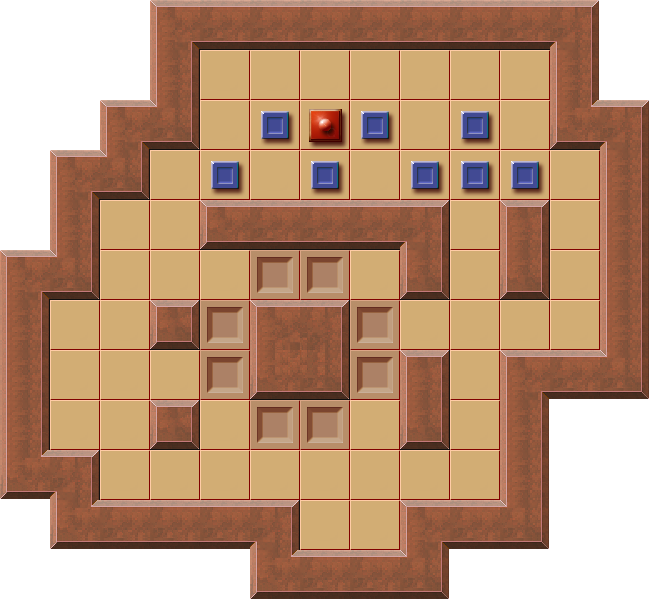 Title: February
Author: DrFogh
Comment: Well. It's February isn't it?
Skin: A real classic. Antique Desk 3 by Gerry Wiseman
The level? Get it here
---
2017-02-11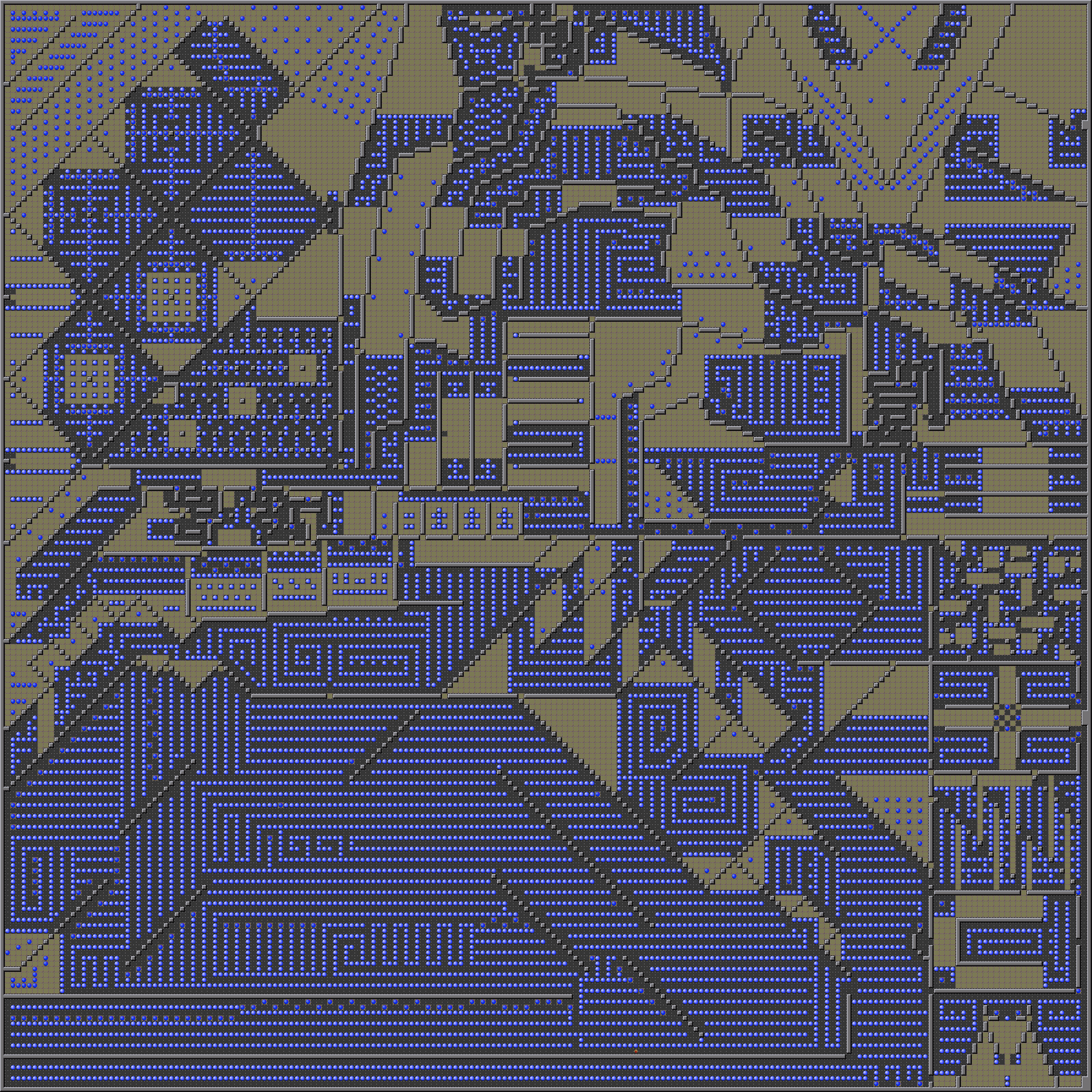 Title: Aeternus
Author: Razorflame
Comment: Nobody made a bigger level. Did anybody solve it? Of course. Not surprisingly by the guys practically solving everything, Mark and Findus at LetsLogic.com.
Date: 2014-01-10
Skin: YSokoban. Didn't you spot that?
Nobody made bigger collections than Razorflame. Find all the Ionic Catalyst collections here.
---
2017-01-27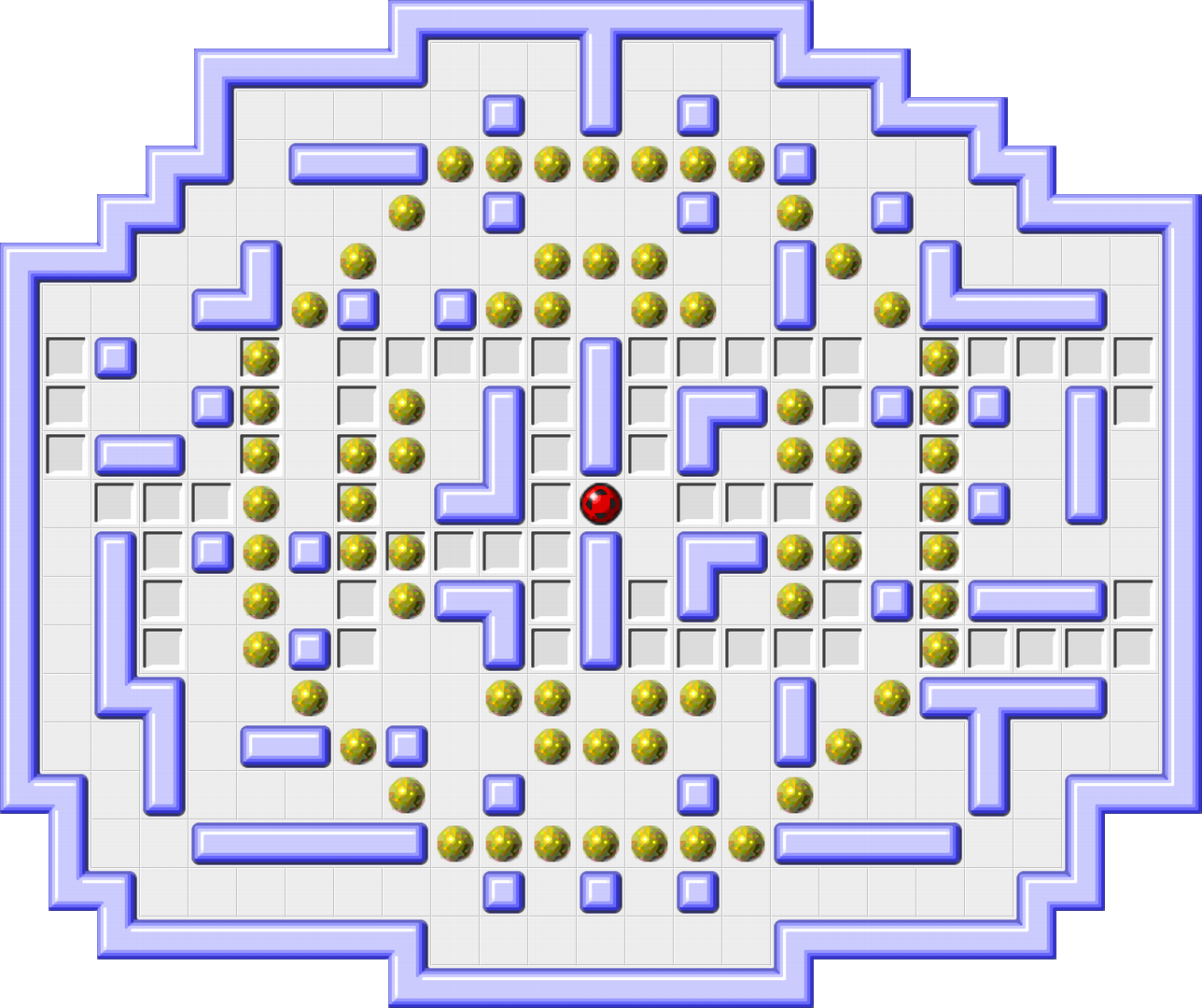 Did you see this skin before? Probably yes but something has changed. Read about it and other recent additions to YASC.
The level? "From Mac to YASC". Looks complicated but with a little undoing you will come through without too much trouble. Be a sport! Play the level with undo disabled.
---
2017-01-03
Read about a new solver by Florent Diedler and a level not as sophisticated as the author thought.