2016-06-11
Boxworld is a classic among Sokoban programs. Probably mostly because of the skin. Programed by Jeng-Long Jiang and released in 1992 (1991?) for Windows 3.1.  Boxworld was freeware.
If you have a 32-bit Windows computer, meaning many Windows7 installations and most older Windows installations, you can still play the original Boxworld.
If not, you can play Boxworld with a few modifications if you have an Android device. Boxworld was released for this platform 2012.
Finally Boxworld implementations are widely found online.
The Interface is very simple: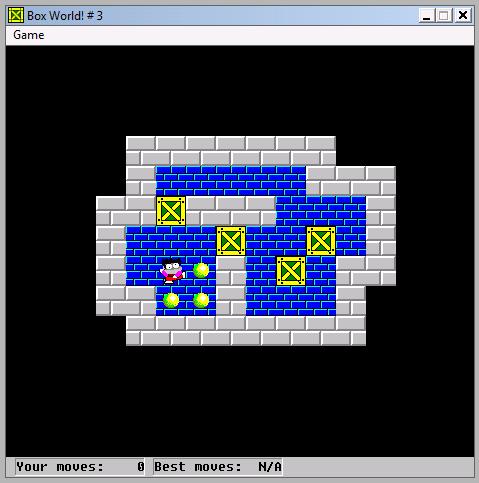 Apart from the interface, Boxworld contains only a window with playing instructions and the name of the programmer: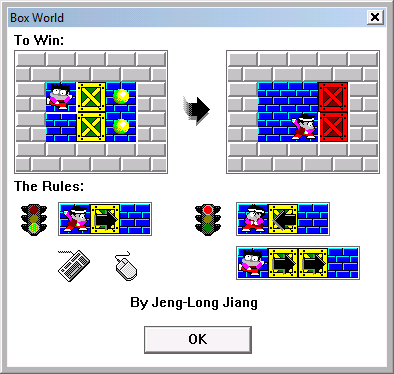 Boxworld contains 100 puzzles. None original. All borrowed from Sokoban Perfect and Sokoban Revenge.
Arguably the most interesting about Boxworld is the skin. The graphics are very clear and the lay out of the walls, blocks and goal are very easy to read.
All original Boxworld graphics:

Put together in a skin usable with YASC and YSokoban: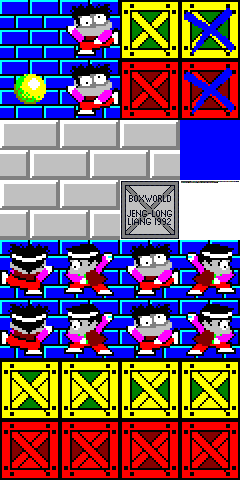 But the graphics do not look good playing Sokoban on a high resolution screen.
For that reason I remade the skin  some years ago with 60×60 pixel blocks, a double of the originals 30×30, and some editing of the graphics.
And added graphics for Sokoban on Goal. The original does not contain that.
And lately, with help from Brian Damgaard, added animation for the skin in 2 variations.
The graphics and animations could surely be done better by a professional but anyway I think you will be pleased with the results shown below.
Boxworld 2016 4×8. For YSokoban and YASC: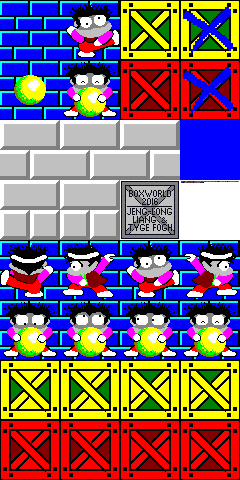 Boxworld 2016 29×10. Only for YASC:


Play Boxworld
icon-file-o Boxworld v1.1. Download, unzip and play. 32bit Windows pc's and MacIntosh.
icon-external-link Boxworld Origins for Android.
icon-external-link Boxworld Online. By Michel Buze. The Java code is supplied.
icon-external-link Boxworld Online. By Matthias Selle. With solutions. I love those sick eyes on goal! Why didn't I get that idea?

Boxworld Original Skins
icon-file-o Boxworld (YASC and YSokoban)
icon-file-o Boxworld (JSoko and Sokoban3, zipfile)
Boxworld 2016 Skins
icon-file-o Boxworld 2016 4×8 (YASC and YSokoban)
icon-file-o Boxworld 2016 4×10 (YASC. A little more animation)
icon-file-o Boxworld 2016 29×10 (YASC. All the animation)
icon-file-o Boxworld 2016 (JSoko and Sokoban3, zipfile)
Wallpapers
icon-file-o If you can't get enough (1920×1080)
Do you know something about Boxworld I don't? Unknown graphics, corrections, history, skins for other programs… I will gladly add and correct. Just click on the link below  icon-arrow-circle-o-down